First trip out this year for some serious fishing. Scott, Brian, and Shady came over about 6:30. Headed off for the bait shop at Crockrells. Normally the shop opens at 7:00 we got there at 6:45 and the guys were putting a big order together so we snuck in the middle. Good group of guys at the shop and always treats us right.
We needed to be back early so we took off for the bay side of Dameron marsh. There were probably a handfull of boats but we were there before the parking lot. Went to a place I had marked 2 years ago. Put out a chum bag at the bottom (15 feet of water and behind us it as a drop off to 20).
The Story
Put out the 4 rods and I would estimate maybe a min the rod closest to me went screaming. I picked it up set the hook and handed it to Shady. He went out 50 feet and I could see it was a cobia. Shady was fighting the biggest fish he has ever caught and was very fun to see. Of course, Scott was wound up but the rest of us were as well. He came to the boat about 5 times before we could net him. Everyone was worn out and turned out to be a good fish.
We caught a few skates later but that was the only Cobia.
On the way back my Alternator belt broke but we had tools and a replacement belt on board so other than being hot not really a problem. Ok, me remember to get another belt. Really, I need to change them out yearly.
Weather
Air Temp 75 -> 80
Wind 4 from the W
Moon Phase waning 55%.
Pressure 29.82 in
Visibility 10 miles
Clouds Partly Cloudy
Dew Point 74 F
Humidity 68 %
Water
Waves 0.5> 0.5 later
Tide LT 7:35 HT 13:25
Temp 72.0
Clear
Bait
Chum at the bottom
Bunker on the hook
Chum over the gunnel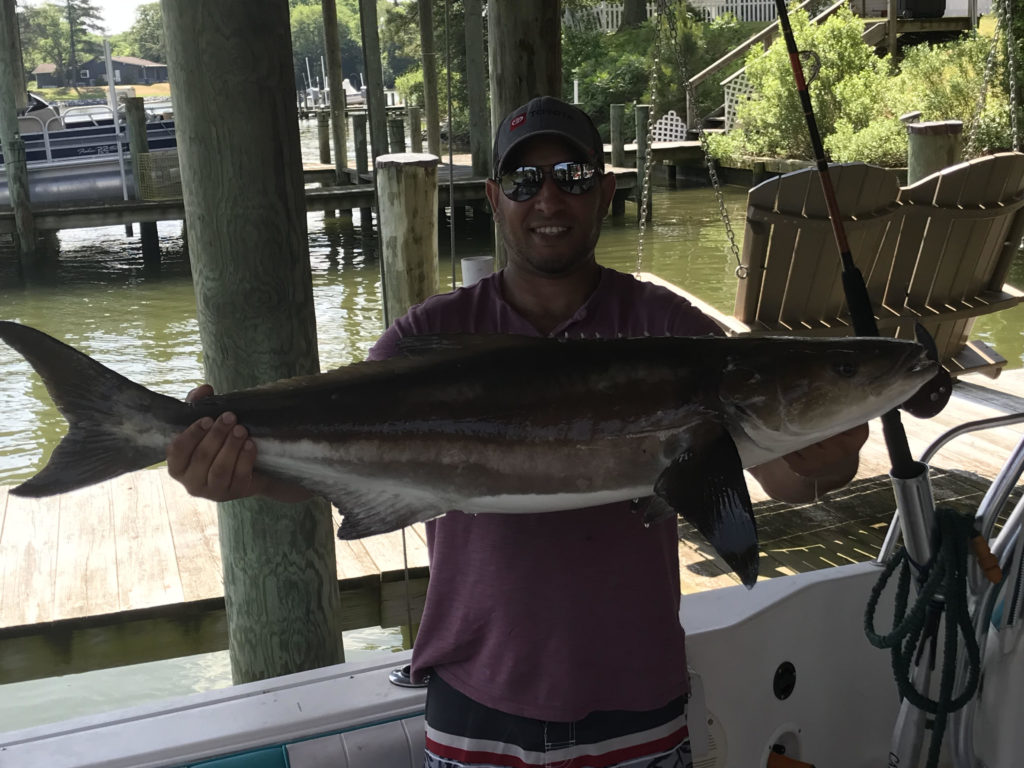 37°45'54.3″N +76°15'31.6″W